About
MUDDITATION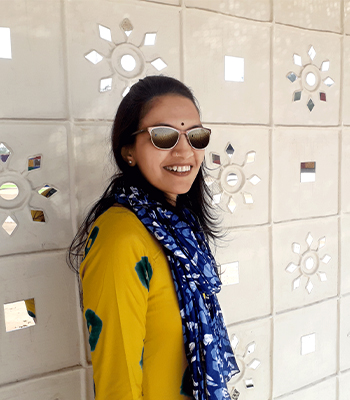 I am Rucha Goswami!
How an Art Curious and Enthusiast can convert a lump of clay into an amazing masterpiece of MUD ART!
Come and savor your Art Quotient with this profile...
I have earned an accolade in the fraternity of MUD MIRROR artisans.
I have slowly and gradually ventured into this venue with immense curiosity and vision to give a twist without tempering the Traditional Method of MUD MIRROR Relief Art for the last 18 years. For the last 3-4 years, my son Rutam is also shown his keen interest in this art and taking over responsibilities as a best disciple. Will love to pore my all skills to him.
Over a period of time, I realized that I can better translate my Ideas and thoughts through MUD ART.
Initially, I have tried a different kind of ART like Wedding Decor, News Paper Art, Paper Quilling, Paper Art, Jute Art, Handmade Customised Jewellery, Candle Art, Glass Painting, Thread Art and many more...
`
To learn the Nuts & Bolts of the art I have ventured in the remote locations of the MUD ART. Talked with the native Kutchhi Artisan personally interviewed housewives of the community, they are basically a Nomadic. MUD MIRROR Relief Artwork is in their veins. Though the Education Level is minimal Ladies from this community is having a keen sense of Geometry and Arithmetic. There Simple and free Hand Strokes make you spellbound!
I fall in love with this art because of its simplicity, though it seems a quite simple piece of art. It needs severe hard work, determination, and Dedication of the artist. MUD ART always challenges a person's patience!
I am spreading MUD ART to young students/art lovers by providing personalized Art Workshops and always ready to encourage and nurture young artists for the last two decades to carry and preserve this art to the next generation.
Well said by John F. Kennedy "If art is to nourish the roots of our culture, society must set the artist free to follow his vision wherever it takes him".
I believe to give back something to Nature! So, I always try to reduce, reuse and recycle plastic. I have my own recycling facilities.
Thanks for visiting and encouraging.